A political party for Europe
The European Federalist Party is the active arm of all those who want to transform Europe through federalism. We are neither a think-tank nor an associative movement, but a party that acts on the political scene and presents candidates for election.
The only European political party
Since its creation, the movement has thought of itself on a European scale, unlike the other European parties which are only confederations of national parties. The European Federalist Party defends the same programme under the same banner throughout Europe. Today, we have members in a dozen or so EU states.
A free speech
We are in favour of a dynamic political activism that combines relevant analysis with sharp criticism, courageous standpoints and field electoral actions. A proponent of uncompromising political thought, the European Federalist Party is by no means an unconditional defender of European institutions and policies.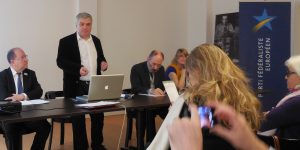 Mobilising European opinion to act
We believe that today only political action at European level can be effective in achieving our objectives. No government, however pro-European, can make a difference in Europe on its own.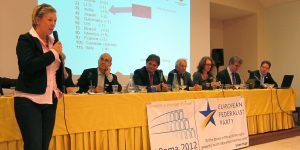 A citizens' movement
Women and men of all social and political backgrounds, we devote part of our time to political action. We are working for our convictions and implementing concrete solutions to improve the daily lives of all our European citizens.
In the Press
• Capital Finance International (EN): « Europe's First Transnational List has been Presented by the European Federalist Party »
• Corse Matin (FR) « Yves Gernigon : En Corse pour porter le projet de l'Europe des régions »
• Yvelines Première (FR): « Moi candidat » Yann Froger, candidat (Parti Fédéraliste Européen) dans la 7ème circonscription »
• Europe 1 (FR): « Qui se présente à la présidentielle 2017 ? »
• Le Petit Journal (FR): « Yves Gernigon – Je me battrai pour faire émerger une nationalité européenne »
• Ouest-France (FR): « Sénatoriales. La liste du Parti fédéraliste européen en Ille-et-Vilaine »
• La Vie (FR): « Elections européennes : les petites listes tirent leur épingle du jeu »
• Le Télégramme (FR): « Création d'une section bretonne du Parti fédéraliste européen »
• Tovima (GR): « Βενιζέλος: Να δώσουμε τόπο στη νέα γενιά »
• Wall Street Journal (EN): « Election Over, Europe Launches a Turf War »
• The Parliament Magazine (EN): « EU faces prospect of 'coup d'état' by European council »
• Brussels Star (FR): « L'Europe que nous voulons à la commune d'Etterbeck »
• The Parliament Magazine (EN): « Federalism would bring Europe 'closer to the people', says MEP candidate »
• ANSA (IT): « Partito federalista presenta candidati in 6 Paesi »
• France Bleu (FR): « Les candidats aux élections européennes tentent de mobiliser les électeurs en Gironde »
• Lettera 43 (IT): « Europee 2014, Stand up for Europe: 14 giovani per l'Ue »
• Kathimerini (GR): « Βέλγιο: "Ενάντια στον λαϊκισμό" το ψηφοδέλτιο νεαρών ευρωπαϊστών »
• ANSA (IT): « Lista di giovani euroentusiasti in campo in Belgio »
• Europost (EN): « Non-Europe costs dearly »
• Brussels Star (FR): « L'European Federalist Party, a présente les candidats de sa liste à la presse ce lundi 7 avril »
• Formiche (IT): « Romano Prodi battezza il vascello della Lista Alde alle Europee guidato da Boldrin, Tabacci e montiani doc »
• L'Echo (FR): « Bâtir les États-Unis d'Europe »
• Naftemporiki (GR): « Συνεργασία Δράσης- Ευρωπαϊκού Φεντεραλιστικού Κόμματος »
• Le Parisien (FR): « Le Parti fédéraliste européen veut présenter des listes autonomes »
• Capital (GR): « υνεργασία Δράσης – Ευρωπαϊκού Φεντεραλιστικού Κόμματος »
• Europe Today (EN): « The race for the 2014 EP Elections begins: the Convention of the European Federalist Party »
• Mentelocale (IT): « Genova. Siamo tutti greci: la manifestazione a De Ferrari »
• Euractiv (FR): « Le parti fédéraliste veut son candidat à la présidentielle »
• Imerazante (GR): « ΑΝΟΙΧΤΗ ΕΠΙΣΤΟΛΗ »
• Taurillon.org (FR): « Plaidoyer pour de vrais partis européens »
• Unmondoditaliani (IT): « Una donna europea. Intervista a Stefania Schipani, vicepresidente del Partito Federalista Europeo »
• Epochtimes (RO): « Cum ar putea arăta Statele Unite ale Europei »
• Rivista Europae (IT): « Marazzi (European Federalist Party): All'Europa serve una rivoluzione strutturale. È il momento della Federazione europea »
• The New Federalist (EN): « In defense of real European parties »
• Viotianet.gr (GR): « Στη Λιβαδειά το Ευρωπαϊκό Φεντεραλιστικό Κόμμα »
• Derwesten.de (DE): « Unterwegs im Schloss Bellevue »
• La Croix (FR): « Yves Gernigon, président du Parti fédéraliste : Pour un président fédéral élu au suffrage universel direct »